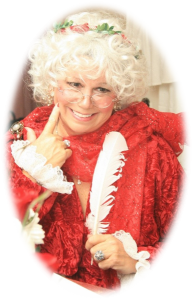 Be good, for goodness sake!
Santa Nana (Lucky Royse)
Save the Dates!
August 12, 2021 – 7:00 pm Eastern
Register on the Events Page
Webinar: 360 Degree Mentoring for the Season Ahead
More Information coming on how to register for these 2022 events!
February 26-27, 2022
Super Santa Sunday – Williamsburg, VA
July 14-17, 2022
School of Santas – Branson, MO
Welcome to Santa Nana's Holiday University, where you can experience a different and unexpected point of view for holiday education. Today, families, clients, and the full Christmas community recognize the role and value women bring to a create a more complete holiday experience. At Santa Nana's Holiday University, our approach to learn, share, encourage, and connect with others, helps to prepare you to be a great solo performer, or a great partner.
SNHU is for ALL Christmas performers: Mrs. Claus, Santa, Elves, and supporters.
This three-day, traveling program is specially designed from a lady's point of view, and built on the legacy and vision of Santa Nana (Lucky Royse). Visit the Curriculum page to learn more, and we invite you to ask about scheduling a class in your location.
Santa Nana's Holiday University believes in the power and uniqueness of YOU, and helps you discover the Claus you've always wanted to be. The only cookie-cutter Claus is the one in Mrs. Claus's bakery!