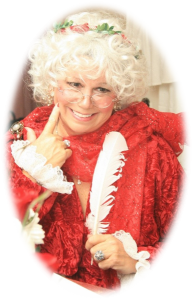 Be good, for goodness sake!
Santa Nana (Lucky Royse)
THREE BIG ANNOUNCEMENTS:
Save the Date: Colorado Springs – October 12-14, 2023! We're headed to the Centennial State and hope to see you there. Registration is now open HERE!
SNHU comes to Michigan in 2024: Santa Nana's Holiday University invites ALL Christmas performers to join us in Michigan May 2-4, 2024. Learn more and register HERE.
North Pole Cornerstones: Exciting News! Santa Nana's Holiday University and Santa and the Business of being Santa are collaborating to create a unique, entertaining and interactive education experience. Learn all about North Pole Cornerstones

, coming to San Antonio, TX in February 2024.




---

---
Welcome to Santa Nana's Holiday University, where you can experience a different and unexpected point of view for holiday education. Today, families, clients, and the full Christmas community recognize the role and value women bring to a create a more complete holiday experience. At Santa Nana's Holiday University, our approach to learn, share, encourage, and connect with others, helps to prepare you to be a great solo performer, or a great partner.
SNHU is for ALL Christmas performers: Mrs. Claus, Santa, Elves, and supporters.
This two (or three) -day, traveling program is specially designed from a lady's point of view, and built on the legacy and vision of Santa Nana (Lucky Royse). Visit the Curriculum page to learn more, and we invite you to ask about scheduling a class in your location.
Santa Nana's Holiday University believes in the power and uniqueness of YOU, and helps you discover the Claus you've always wanted to be. The only cookie-cutter Claus is the one in Mrs. Claus's bakery!