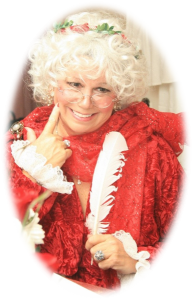 Be good, for goodness sake!
Santa Nana (Lucky Royse)
We have completed our 2019 sessions and are beyond proud of the ladies and gentlemen who have honored Santa Nana's vision and graced us by attending Santa Nana's Holiday University in Durham, Fresno, and Tulsa. Please take a look at the

Graduation Photos

from ALL of our SNHU sessions since Santa Nana started this fabulous journey in 2016. We are now planning our 2020 sessions and will announce soon. Thank you for allowing us partner with you, and for being a part of the Santa Nana family.
Welcome to Santa Nana's Holiday University, where you can experience a different point of view for holiday education. Today, families, clients, and the full Christmas community recognize the role and value women bring to a create a more complete holiday experience. At Santa Nana's Holiday University, our approach to learn, share, encourage, and connect with others, helps to prepare you to be a great solo performer, or a great partner.
This two-day, traveling program is specially designed from a lady's point of view and built on the legacy and vision of Santa Nana (Lucky Royse). Visit the Curriculum page to learn more, and we invite you to ask about scheduling a class in your location.